The HKRF, in conjunction with it's partner site, The Hong Kong Racing Journal, provides you with the BEST ARSENOL of TOOLS to effectively and efficiently analyze Hong Kong Racing.

* NEW . . . the HK Racing App Modules *

Currently available in Excel©, the HK SUPER CARD & HANDICAPPING MODULES comprise a series of unique and comprehensive tools which have powerful sorting and filtering features.

Get for your SUPER RACING APPs » Click Here for APPs & More!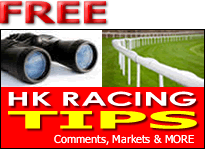 » 2017-18 RACE DATES
(1-page PDF Format)